See on Scoop.it – Nunavut Stories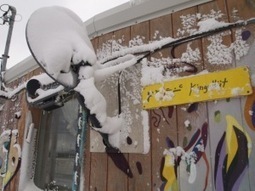 Global Native Networks – Investigating Indigenous Use of Digital Technology Around the World
[excerpt]
"The cultural survival of marginalized peoples may soon depend (if it does not already) on an ability and willingness among the otherwise defenseless to plug into – literally and figuratively – transnational lobby networks… More to the point, if internet lobbying is a key strategy for defense against unwanted mega-projects, forced resettlement, environmental degradation or policies of linguistic and cultural assimilation, then those who exist on the margins of technology will also have marginal hopes for cultural survival." 2005, Niezen, p. 548-9.
How can a place so over-researched and endlessly problematized as Nunavut be so under-supported and information-starved at the same time?
This question haunts my every interaction in the North. Residents of Nunavut are accustomed to being researched and scrutinized by Southern academics and bureaucrats, with relatively little to show for it. Why – in what I have argued is a Canadian "welfare colony" – have government funds not gone further to improve the livelihood and well-being of Nunavummiut, particularly the Inuit?
The following few posts will address this question by detailing (infra-)structural factors that impede more rapid development in Nunavut, particularly as these factors pertain to my focus – indigenous technology use. I hope to interrogate why things are the way they are, to trace policy and investment decisions as much as I can from my little post up here in Igloolik, where few upper-level decision makers dare to venture.
If you know anything about the legacy of Anthropology at Rice University, you might guess that my academic training weighed heavily on theory. And you would be correct. The literature that introduced me to indigenous media focused largely on the politics of representation; it has remained sexy in the last few decades – ever since Sol Worth and Jon Adair put cameras in the hands of the Navajo – to ponder if Western technologies bring with them inherently Western conceptions of time, space and story-telling. If they commit an epistemic violence that flattens alternative ways of knowing and telling. These esoteric questions seduced me, led me to this topic in the first place.
In the same vein, I thought this year-long project would bring me face-to-face with what Faye Ginsburg first called the "Faustian Bargain" of indigenous media:
Indigenous and minority people have faced a kind of Faustian dilemma. On one hand, they are finding new modes of expressing indigenous identity through media and gaining access to film and video to serve their own ends and needs. On the other hand, the spread of communication technology such as home video and satellite downlinks threatens to be a final assault on culture, language, imagery, relationship between generations, and respect for traditional knowledge. (1991, Ginsburg, F., Indigenous Media: Faustian Contract or Global Village?. Cultural Anthropology, 6: 92–112)
[…]
See on globalnativenetworks.com