Pioneers of northern radio
See on Scoop.it – MediaMentor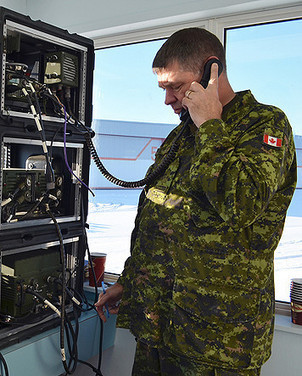 When Yellowknife was founded more than 75 years ago, its only reliable means of communications was run out of a tent with two soldiers and a radio.
Early in September of 1937, the Army was ordered to the new town to establish "RC Sigs Station Yellowknife." It was the government's answer to communications problems in the North. The station would become the largest and busiest in the Northwest Territories, according to Maj. Terry Buehl, the man currently in charge of military signals in Yellowknife with Joint Task Force (North).
The Yellowknife station was part of a vast network of stations manned by soldiers from the Royal Canadian Corps of Signals. The first was built in 1922 in Dawson City, Yukon, replacing an unreliable telegraph line and a limited post service.
On Friday, the Royal Canadian Corps of Signals celebrated the 110th anniversary of military communications in Canada. In Yellowknife, Buehl and his signallers took part by participating in a world-wide radio exercise.
See also
Northwest Territories and Yukon Radio System History Project http://ow.ly/qqKVi
Northern_Clips's insight:
"…The Canadian military was the first in the Commonwealth to create a dedicated signals unit. Military signallers in Yellowknife today can trace their roots back to the formation of the Canadian Signalling Corps in 1903.
The army provided radio communications for Yellowknife for 21 years, until 1958, when CBC took over the station…."
'…The story of the NWT&Y Radio System is a virtually unknown saga in the history of the development of northern Canada. The contributions of the men who staffed the stations are largely unheralded. In his post-script to the official history, WO1 Cal Vince says:
"Northerners will also remember Signals primarily as magistrates, Airways and Transportation agents, acting minions of the law and prime movers in community affairs. It is the unmistakeable fact that the fine reputation built by the Royal Canadian Corps of Signals during 37 eventful years of service in the north country was not the result of the efforts of one, two or even three individuals, but rather the results of the combined efforts of every officer and man who served on this now non-existent arm of the Royal Canadian Corps of Signals."
These are not the normal roles of soldiers on active service. But there in the Canadian northland they were engaged in unusual circumstances and eventful times. Not only was Canada's northern frontier and its resources in the early stages of exploration and development, but the science, technology and practical applications of global telecommunications and air transportation were also probing new frontiers. The Royal Canadian Corps of Signals was asked by the Government of Canada to step into the breach and fill the void in long-distance telecommunication to serve those industries and the embryonic communities in the northern territories. In the process the Signallers found themselves, perforce, fulfilling duties far beyond anything they had learned at the School of Signals in Vimy Barracks. In enthusiasm, ability, dedication and inventiveness they were not found wanting. In the nearly four decades (1923-59) that their System operated they left behind them a proud and impressive legacy…."
Northwest Territories and Yukon Radio System History Project http://ow.ly/qqKVi
See on nnsl.com