Taking the checkered flag: Annual Qaqurnaq Racing Club event popular in Rankin Inlet
See on Scoop.it – Inuit Nunangat Stories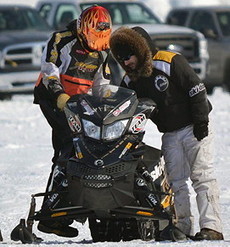 Leo Kaludjak took top spot in the Senior Division, while Ross Tatty took the Master's (40 and older) Division and Tristen Dias captured the Junior flag.
Tatty, who also helps co-ordinate the event, said the number of racers was about the same as in 2012.
He said the races are often close in each division, which makes the event fun for racers and fans alike.
"You get the odd race, for a number of reasons, that may not be that close, but, overall, most of them are pretty close," said Tatty.
"The racers take this event very seriously.
"Some go all out with brand-new machines, while others, basically, make a snowmobile out of scraps just to be able to enter the races."
The races follow international snowmobile rules.
Nothing larger than 600 cc is allowed, and every machine's tether cord must be operational.
10
Northern_Clips's insight:
"…"Our community has always been a big supporter of the races, and we don't usually have any trouble getting the volunteers we need to make them a success.
"We did have some accidents this year, but there were no major injuries."
Tatty said the club tries hard, when setting up the track, not to make it too dangerous for the drivers.
He said there's a few bumps here and there to get the spectators on their toes, but nothing too severe.
"We always have very good crowds, and the hamlet is usually good to put parking areas near the course and have the road down to the ice ready.
"As organizers, we're always grateful when the races end with no major injuries.
"We want them to be fun and competitive, but safety first is always our main goal."
Tatty said as soon as the races are done, it's time to put the books away for 2013 and start planning for 2014…."
10
See on nnsl.com