Showing their skills: Arviat students earn 12 medals, two invites to national Skills Canada event
See on Scoop.it – Inuit Nunangat Stories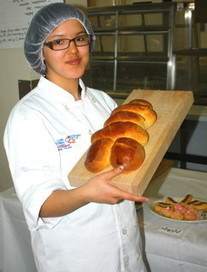 The Arviat students took home medals in the categories of TV/video production (Innosar Issakiark and Shelton Nipisar coached by Gord Billard), baking (Vayda Kaviok and AnneRenee Angalik coached by Susie Johnson), cooking (Ramon Kaviok and Jonathan Kigusiutnak coached by Mike Johnson), hairdressing (Gwen Ishalook and Gabai Kaludjak coached by Celeste White and Kimberley Dymond), esthetics (Sherilyn Sewoee and April Kablutsiak coached by Annette Atkinson) and photography (Avis Mukyungnik and Amanda Pingushat coached by Steve Penney).
Issakiark and Nipisar were invited to the national in TV/video production, while Vayda was invited for baking.
Billard said the number of participants at this year's Nunavut event was lower than usual.
He said there were only 41 competitors in 10 categories, both down significantly from past years.
"There was only one team in four different categories, so, by default, they received a gold medal," said Billard.
"Our TV/video production entry was one of those, but our little team produced a video good enough to qualify for the national, so I'm tickled pink.
10
10
Northern_Clips's insight:
The Arviat youths garnered 12 medals and a pair of invitations to the Skills Canada national competition in Vancouver, June 5-8.
See on nnsl.com