Thomas C. Jepsen: My Sisters Telegraphic: Women in Telegraph Office 1846-1950 (2000) — Monoskop Log
See on Scoop.it – MediaMentor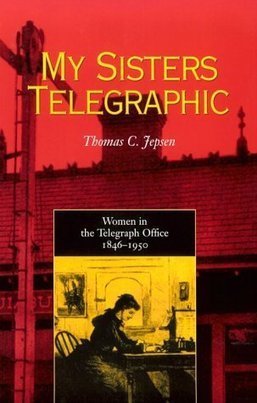 The role of the telegraph operator in the mid-nineteenth century was like that of today's software programmer/analyst, according to independent scholar Tom Jepsen, who notes that in the "cyberspace" of long ago, male operators were often surprised to learn that the "first-class man" on the other end of the wire was a woman.
Like the computer, the telegraph caused a technological revolution. The telegraph soon worked synergistically with the era's other mass-scale technology, the railroad, to share facilities as well as provide communications to help trains run on time.
The strategic nature of the telegraph in the Civil War opened opportunities for women, but tension arose as men began to return from military service. However, women telegraphers did not affect male employment or wage levels. Women kept their jobs after the war with support from industry—Western Union in particular—and because they defended and justified their role.
Northern_Clips's insight:
My Sisters Telegraphic is a fresh introduction to this pivotal communications technology and its unsung women workers, long neglected by labor and social historians.
Publisher Ohio University Press, 2000
ISBN 0821413449, 9780821413449
231 pages
See on monoskop.org