Acclaimed Inuit artist Annie Pootoogook's life again runs off rails again
See on Scoop.it – Inuit Nunangat Stories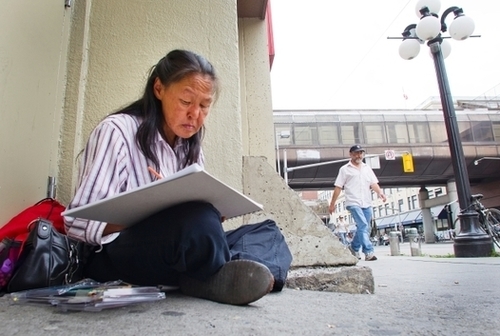 They came to this newspaper last July, looking for help because a baby was on the way and they needed their own place after living outdoors and in shelters for more than a year.
10
Northern_Clips's insight:
"…on Friday, outside the Ottawa Mission where she often goes for meals, Pootoogook revealed she is through with Watt and expects she will never be reunited with her baby. Pootoogook thinks the child will be put up for adoption. She also admitted the drinking never stopped, and both she and Watt continued to take drugs.
The story gets worse.
Earlier this month, as they were drinking red wine in their apartment, Watt suddenly flew into a drunken rage and beat her up.
Watt was sentenced to 45 days in jail for assault, and though police would not identify the victim, Pootoogook says it was her. Pootoogook says he punched her in the face at least six times and knocked her unconscious. A neighbour who heard the ruckus called police. She says she came to when they arrived. Blood was streaming from her nose. Police had her examined in hospital. Friends and a relatives who saw Pootoogook a few weeks ago say she had at least one black eye and other facial bruises…."
Read more: http://www.ottawacitizen.com/Adami+Acclaimed+Inuit+artist+life+again+runs+rails/7754420/story.html#ixzz2GW81isRU 10
See on www.ottawacitizen.com