Arviat MLA Shewchuk congratulates Nanisiniq member and national Global Dignity role model Curtis Konek
See on Scoop.it – Nunavut Stories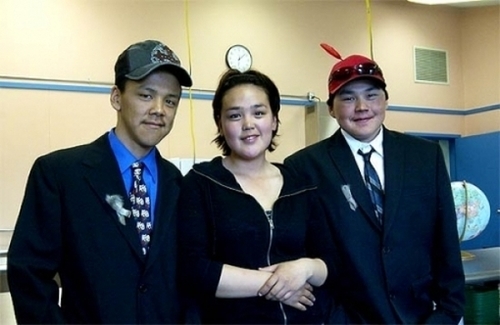 Nanisiniq Arviat History Project researchers Jordan Konek, Amy Owingayak and Curtis Konek. The trio are presenting the results of their two year project at the Smithsonian Institution in Washington on October 26, 2012.
[excerpt]
Arviat MLA Shewchuk congratulates Nanisiniq member and national Global Dignity role model Curtis Konek
Written by Hon. Daniel Shewchuk, MLA for Arviat and Minister Responsible for Nunavut Arctic College
On October 23, 2012, the Hon. Daniel Shewchuk, Member of the Legislative Assembly of Nunavut for Arviat congratulated Curtis Konek of the Nanisiniq Arviat History Project
http://nanisiniq.tumblr.com/ and his recognition as a national role model with Global Dignity Canada.
http://www.nunavutecho.ca/Global%20Dignity%20Canada
[…]
Mr. Speaker, I rise today to acknowledge an incredible young man from my home community of Arviat. Curtis Konek is a young Inuk researcher working on the Nanisiniq Arviat History project, a joint undertaking of the Sivulimiut Elders Society of Arviat and the School of Social Work, University of British Columbia. Frank Tester of UBC is the principal investigator on this project funded by the Social Sciences and Humanities Research Council of Canada. Curtis has worked alongside Jordan Konek and Amy Owingayak in this very important project.
As a young researcher, Curtis brought to this project a desire to rediscover Inuit history and culture, recognizing the importance of both to his identity as an Inuk, and to a sense of pride, purpose, and belonging. Curtis is also a member of the Arctic Rangers.
Like many Inuit youth, Curtis has had to deal with and overcome problems and circumstances that can largely be explained by history involving, in many cases, catastrophic social and personal change. Inuit, in the last 10 to 15-year period, from 1955 to 1970, made the transition from a land-based hunting camps to settlement living and everything that accompanied it.
[…]
10
See on www.nunavutecho.ca