Arctic Children and Youth Foundation plans launch of online youth forum
See on Scoop.it – Nunavut Stories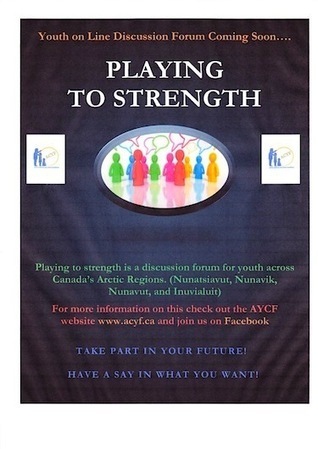 "The youth will speak and we're going to listen"
[excerpt]
A new online discussion forum for Arctic youth wants to open communication between youth from Nunatsiavut, Nunavik. Nunavut and the Inuvialuit region, and then let the world learn from what they have to say.
Called "Playing to Strength," it's a new project from the Arctic Children and Youth Foundation, which is slated to start up in January 2013.
The forum's motto: "Take part in your life, have a say in what you want."
Many internet-savvy Arctic youth are already on an equal footing with their peers elsewhere other parts of Canada and the world, says the foundation's president, Whit Fraser.
They have "tuned in" to the new technological world, he said.
And the Arctic Children and Youth Foundation believes that's a strength which it "can and should build on."
The project wants to build on the feedback from youth to help tackle economic and social problems, such as the high school dropout rate of up to 80 per cent in some areas, or, "most painful of all," a suicide rate many times times the national average.
[…]
First Air has already responded with a commitment to provide more tthan $15,000 worth of travel for the coming year, Fraser said.
The project has hired two staff members at its Ottawa office to begin developing "Playing to Strength": Jess Tagoona, who will work on the website's design and the format and provide web support, and Stephanie Etuangat, who will take care of many administrative duties.
You can find out more information on the Arctic Children and Youth Foundation website
http://www.acyf.ca/Pages/default.html
and on its Facebook page.
https://www.facebook.com/pages/Arctic-Children-Youth-Foundation/154650507990592
10
See on www.nunatsiaqonline.ca