Arctic Fibre applies to Industry Canada for licences
See on Scoop.it – Nunavut Stories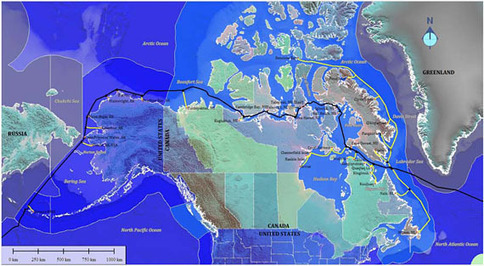 This map shows Arctic Fibre's proposed route through the waters of the Canadian Arctic, including proposed spur lines. (IMAGE SUBMITTED BY ARCTIC FIBRE)
[excerpt]
Arctic Fibre Inc., the firm that proposes connecting northern Canada to an international marine fibre optic cable system http://www.nunatsiaqonline.ca/stories/article/65674arctic_undersea_cable_could_end_nunavuts_dependence_on_satellites/ ; running between London, New York and Tokyo, has applied to Industry Canada for cable landing licences needed for the project, the company said Oct. 3.
The cable would carry four "fibre pairs," the company said.
Two of those would connect Japan with the United Kingdom. A third would carry signals between Japan and the northeastern United States through an existing land station at Milton, Nfld., near Clarenville.
And a fourth fibre pair would connect Nunavut, Nunavik, northern Labrador and Alaska, the company said, reducing the need for high-cost, limited-bandwidth satellite communications.
The company said its fourth fibre pair would automatically provide "virtually unlimited" bandwidth to 52 per cent of Nunavut's population, with no need for government subsidies.
That refers to the communities located along the fibre cable's backbone: Cambridge Bay, Gjoa Haven, Taloyoak, Igloolik, Hall Beach, Cape Dorset, and Iqaluit.
[…]
10
See on www.nunatsiaqonline.ca