Greenland seeks an Oscar for celebrated film "Inuk"
See on Scoop.it – Nunavut Stories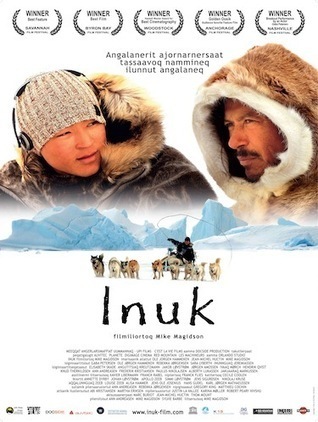 This poster advertises the film "Inuk," submitted for a Best Foreign Picture nomination from the American Academy of Motion Picture Arts and Sciences, which recognizes excellence of professionals in the film industry with its annual Oscar awards.
[excerpt]
This year's Greenlandic nominee for one of five finalists positions in the Best Foreign Language Film category: the film Inuk, directed by Mike Magidson and co-written by Magidson, Ole Jørgen Hammeken and anthropologist Jean Michel Huctin.
Inuk tells the story of 16-year-old Inuk, sent from his troubled home in the capital of Nuuk to a children's home in Uummannaq in northern Greenland.
There, he meets Ikuma, a legendary polar bear hunter, who sees his skills mysteriously disappearing. Taking Inuk on his dogsled for the annual hunting trip, they confront fragile sea-ice.
But the most difficult part of the journey turns out to be "the one they must make within themselves," an Oct. 1 news release said.
Shot on the sea ice in -30 C, Inuk features the performances of teenagers from the Uummannaq Children's Home and local hunters, all playing roles "close to their real lives."
[…]
You can learn more about Inuk here.
10
See on www.nunatsiaqonline.ca