Rick Mercer: Why I rant. and he says Canadians don't do it enough
See on Scoop.it – MediaMentor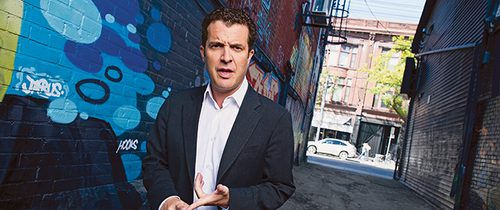 Ranting is a 'skill' the comedian learned from his mother—and he says Canadians don't do it enough…
[excerpt]
Rave on: Mercer thinks Canadians don't rant enough, with dire consequences
I didn't come out of the womb ranting but chances are I heard a few good ones while I was in there.
Indeed, if my instinct to rant comes from anywhere it's my mother.
One of my earliest life-defining memories as a kid was being dragged against my will to the bank because Mom had a meeting.
[…]
If you in your capacity as a Canadian citizen, taxpayer or Grade 10 student doing a social studies project ask any questions about any pipelines anywhere in Canada, you will be branded by the government as a dangerous radical or a vicious cruel monster in the same league as Saddam Hussein, Moammar Gadhafi, or David Suzuki.
This is a pretty effective strategy but I doubt it will last for long. Hopefully it will dawn on Canadians that the one thing we shouldn't care about is what the government thinks of us or what names they call us. Prime ministers, premiers and cabinet ministers aren't our friends; they are just people in bad suits who work for us.
We are the boss. And if they want to work for us they have to listen to us, answer our questions and occasionally, like all employees, listen to the boss rant.
10
See on www2.macleans.ca