Western Association of Aboriginal Broadcasters – WAAB
See on Scoop.it – MediaMentor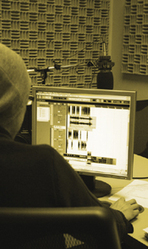 The Western Association of Aboriginal Broadcasters (WAAB) was established in order to formalize the working partnership between the four founding members and to work on behalf of its five current members towards common goals.
These goals are based on developing new opportunities that would better serve Aboriginal people through enhanced culturally-based communications.The five member groups combined now have more than 100 years of service to the community and service in excess of 300 communities throughout western Canada. Listener estimates indicate an Aboriginal potential audience of more than 550,000!
It has become clear over the last two decades that Aboriginal controlled and operated communications systems have a significant positive impact on Aboriginal language rehabilitation and retention, Aboriginal arts and cultural initiatives, currents affairs presentations from the perspective of Aboriginal Canadians, and the continuing progress of bridging the cultural divides.
The goal of WAAB is to continuing the evolution of Aboriginal communications by examining enhanced distribution of member services through new technology to a growing and increasingly diverse audience.
Of course, there exists vast potential for future partnerships with other Aboriginal Communications groups in areas such as shared programming, as producing/ co-producing new programs of interest to Canada's Aboriginal Peoples.
WAAB members are currently broadcasting in urban areas such as Winnipeg, Saskatoon, Regina, Yorkton, Fort McMurray and Edmonton. Further expansion to additional urban centres in BC and Alberta is planned.
10
See on www.waab.ca