Toplessness as tactic: Quebec students renew debate over nude protest | rabble.ca
See on Scoop.it – MediaMentor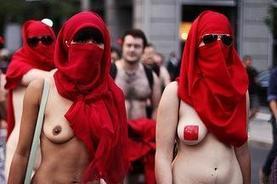 [excerpt]
As illustrated in the accompanying graphic, Canada has a long history of female toplessness as a form of protest. In the 1990s, Gwen Jacob pioneered a battle with Canada's courts over women's right to go topfree. Today, activist groups use toplessness and nudity to protest everything from the fur industry to consumerism.
Given the history of the female body as a space colonized by patriarchy, the concept of the topless protesters carries many connotations. In one sense, a women may be empowering herself through the shedding of clothing. At the same time, however, is there a risk to using toplessness as a tool for activism? By exposing their breasts to attract attention, are women supporting the heteronormative culture?
Dr. Paul Rapoport, coordinator of the Topfree Equal Rights Association (TERA), says there is not necessarily a problem with using the female body as a means of protest.
"Women's bodies are not just a predicament but a resource," he notes.
He also adds that through exposing their bodies, women may be able to simultaneously take control of their bodies and reclaim them from a history of patriarchy.
The organization GoTopless actively supports female topfreedom and argues women should have the right to go topless wherever men are allowed to do the same. Spokesperson Diane Brisebois says there is nothing wrong with women using their breasts as a tool for protest. "Women who have chosen to … protest topless are simply practicing their right and demonstrating the courage that many others do not have," explains Brisebois.
If anything, the topless protests have been effective in drawing popular interest. The nude protests were discussed across Canada, from the National Post to CBC.ca and Yahoo News.
"Of course women's breasts can attract some kind of attention," Grégoire admits, but, he adds, "The goal is to use symbolism to protest the tuition fee hike and not only to show breasts."
Yet despite being a creative way of drawing attention to the student movement, protesting topless carries a range of connotations, and they are not always positive.
[…]
See on rabble.ca