7 Tips to Ensure Your Video Is Usable in the Long Term : Video For Change
See on Scoop.it – MediaMentor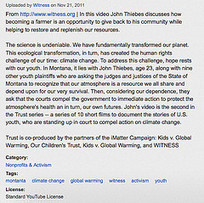 [excerpt]
7 Tips to Ensure Your Video Is Usable in the Long Term
By Yvonne Ng | December 8th, 2011
This post is part of our Human Rights Day Series: Resources for #Video4Change Activists. More resources can be found on our website.
http://blog.witness.org/2011/12/human-rights-day-series-resources-for-video4change-activists/
In the past year, we have witnessed an unprecedented amount of media created by activists, citizen journalists, oral historians, and others who are documenting contemporary protest movements worldwide. As the volume of material continues to grow, questions about how to find, identify, verify, organize, and maintain this media for use as evidence and as historical documentation have become more pressing than ever.
A New York-based collective known as the Activist Archivists, in collaboration with WITNESS, put together this list of tips for #OccupyWallStreet activists to create and share video in ways that support its discoverability, use, and long-term preservation. Many of these pointers are also included in our Top 10 Tips for Filming #Occupy Protests, Arrests, and Police Conduct, but it doesn't hurt to repeat them!
http://blog.witness.org/2011/11/top-10-tips-for-filming-occupy-protests-arrests-police-conduct/
See on blog.witness.org