See on Scoop.it – MediaMentor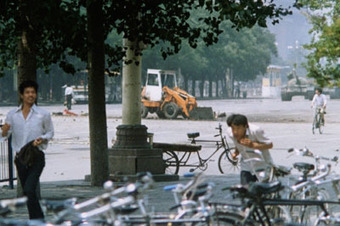 As the "tank man" of Tiananmen Square reenters public consciousness, Terril Jones shares a new view of the confrontation, never before published.
June 4, 2009, 11:47 am [excerpt]
Update | Monday, Oct. 26, 1:00 p.m. Four months later, in Pomona College Magazine, Terril Jones reflected on the extraordinary attention that greeted this photograph when it was published on the Lens blog. He also gave a much richer account of the events surrounding it, concluding:
All this has led me to reassess what the photo tells us. I saw that the still-unidentified man clearly premeditated his stand well before the tanks were upon him; he didn't dart out for the confrontation moments before. He seems calm and prepared — could he have been mentally unstable as some have suggested? He appears to be abandoned by those running for cover, yet he also seems to be clearing a path for them to do so.
I've also realized how strongly that image continues to resonate with people, underscoring the importance of a free — and well-staffed — press corps around the world. The visceral responses that the photo has evoked make me wish I had come forward with it publicly much sooner.
See on lens.blogs.nytimes.com